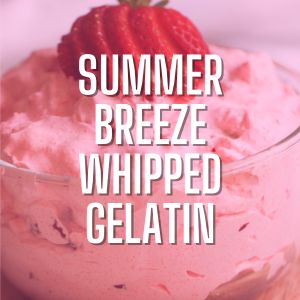 01 May

Summer Breeze Whipped Gelatin

If you're looking for a light and refreshing dessert, this whipped gelatin recipe is perfect for you! With a blend of raspberry gelatin, whipped topping, and cottage cheese, this dessert is both tasty and healthy.

Ingredients:
1 Envelope BW Raspberry Gelatin
1 Cup Fat Free Whipped Topping
1 CUP Low Fat Cottage Cheese
4 Washed and Cut Up Strawberries
Directions:
MIX Gelatin Packet And Whipped Topping Together until Well Blended
Fold in Cottage Cheese and Strawberries
Serve Right Away or Chill and Serve
ENJOY !!!