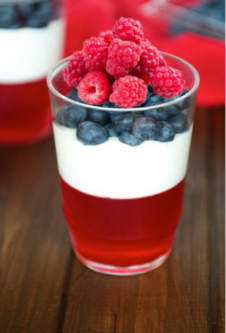 24 Jun

4th of July Fruit and Jello Cup

The Fourth of July is drawing near so this recipe goes out to those who are looking for a festive dessert to bring to the party. This colorful gelatin recipe is especially good if you're watching your weight this summer because it's got 15g of protein per serving and no added sugars.
INGREDIENT ITEMS
Blissful Wellness high protein raspberry gelatin (get it here)
Blissful Wellness vanilla shake/pudding (get it here)
Water
Blueberries
Raspberries
DIRECTIONS
Prepare Blissful Wellness Raspberry gelatin as directed on each individual package, depending on how many servings you want to make.
Prepare Blissful Wellness vanilla pudding mix as directed on box depending on how many servings you chose to make of the gelatin. Place in the refrigerator to cool until gelatin is ready,
Place each packet of premade gelatin mix into clear plastic cups, leaving space to add the pudding later.
Add pieces of Raspberries into the gelatin and let cook in the refrigerator for 1-2 hours.
Once the gelatin is solid, top each one off with your premade vanilla pudding.
Finally, sprinkle a few blueberries on top to finish off this delicious treat!
Prep Time:
20 min
Ready In:
2 hours