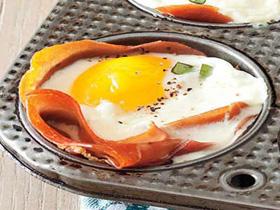 10 Nov

BAKED EGG CUPS

Eggs are great, but they can get a bit boring, That is, until you try this delicious egg cup recipe–a perfect high protein meal or treat. Preparation is super simple (and so is clean up!). You'll wonder why you didn't know about this little marvel sooner. Give it a try, and feel free to share this recipe with your friends on social media.
INGREDIENT ITEMS
12 Eggs
12 thin slices of your favorite deli ham (round)
1/2 Cup of your favorite cheese (Parmesan, Mozzarella, and Cheddar all work well)
1/2 Cup diced scallions
Fresh cracked Sea Salt and Pepper
You can add a cherry tomato, basil, dill, mushroom, or whatever you like to make it a bit more individual.
DIRECTIONS
Preheat the oven to 350F. Spray a muffin tin with cooking spray. Lay a piece of ham in each hole creating a little ham cup. Crack one egg into each hole and sprinkle with salt and pepper.
Bake the eggs for about 15 minutes (times may differ for convection ovens, so take a peek at 10min to see how it's going)…until the white is firm and the yolk is still nice and runny.
Carefully remove each egg from the muffin tin and top with grated cheese and scallions. Serve hot! Yield: 12
NUTRITION FACTS
Calories : 275
Fat: 17.5g
Saturated Fat: 6.27g
Cholesterol : 464mg
Sodium: 349mg
Carb: 4g
Fiber : 1g
Protein: 25.14g