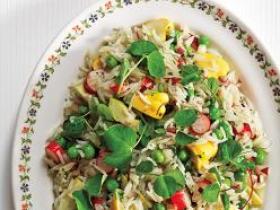 08 Jul

BASMATI RICE WITH SUMMER VEGETABLE SALAD

If you're looking for something light, fun, and unique, check out this wonderful high protein summer salad.  This is a great, no-cook dish to bring to the next cookout. Of course, it's not just for summer — but anytime!
INGREDIENT ITEMS
1 small shallot, chopped
2 tablespoons chopped flat-leaf parsley
2 tablespoons red wine vinegar
2 teaspoons fresh thyme leaves
Kosher salt, freshly ground pepper
1/3 cup extra-virgin olive oil
2 cups cooked basmati rice, cooled
2 cups bite-size pieces assorted vegetables (such as radishes, tomatoes, peas, summer squash) or carrot ribbons
3/4 cup torn mixed leafy greens, sprouts, and herbs
1/3 cup chopped red, yellow, or white onion or scallions
2 tablespoons toasted pine nuts (optional)
DIRECTIONS
Pulse first 4 ingredients in a blender until combined; season with salt and pepper. With blender running, slowly drizzle in oil. Process dressing until well blended.
Place remaining ingredients in a large bowl; drizzle with 3 tablespoons dressing and toss to coat. Pass remaining dressing alongside for drizzling over.
Prep Time:
30 m
Ready In:
30 m