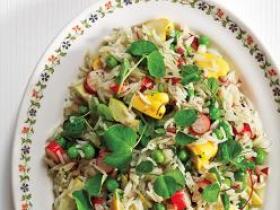 07 Jun

BASMATI RICE WITH SUMMER VEGETABLE SALAD
Enjoy your BEST WEIGHT LOSS with this tasty, light summer salad.  You will love this as first course, or anytime stand alone meal.
INGREDIENT ITEMS
1 small shallot, chopped
2 tablespoons chopped flat-leaf parsley
2 tablespoons red wine vinegar
2 teaspoons fresh thyme leaves
Kosher salt, freshly ground pepper
1/3 cup extra-virgin olive oil
2 cups cooked basmati rice, cooled
2 cups bite-size pieces assorted vegetables (such as radishes, tomatoes, peas, summer squash) or carrot ribbons
3/4 cup torn mixed leafy greens, sprouts, and herbs
1/3 cup chopped red, yellow, or white onion or scallions
2 tablespoons toasted pine nuts (optional)
DIRECTIONS
Pulse first 4 ingredients in a blender until combined; season with salt and pepper. With blender running, slowly drizzle in oil. Process dressing until well blended.
Place remaining ingredients in a large bowl; drizzle with 3 tablespoons dressing and toss to coat. Pass remaining dressing alongside for drizzling over.
Prep Time:
30 m
Ready In:
30 m