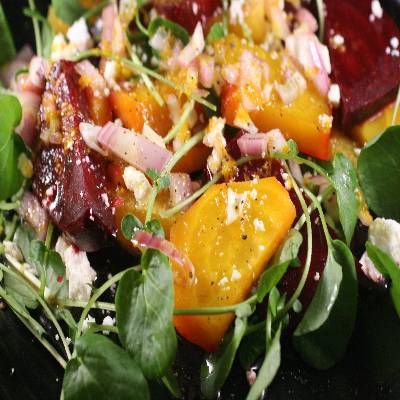 13 Aug

BEET, RHUBARB, AND ORANGE SALAD

One of the best ways to watch your waistline and get your daily vitamins and minerals is to indulge yourself in healthy, tasty food. This week, we present a great tasting salad that ticks all the boxes and more.  Try this for a sophisticated first course or stand alone meal when you want to give your taste buds a treat.
INGREDIENT ITEMS
8 2- to 2 1/2-inch-diameter red or yellow beets, 4 of each color if available
4 tablespoons extra-virgin olive oil, divided
Coarse kosher salt
3 cups water
1/2 cup sugar
1 pound trimmed rhubarb stalks, cut diagonally into 1/2-inch-thick slices
3 large oranges
2 tablespoons unseasoned rice vinegar
1 tablespoon fresh lemon juice
1 tablespoon minced shallot
1 teaspoon honey
3 cups watercress sprigs
1 1/4 cups coarsely crumbled feta cheese (about one 7-ounce package)
1 slice of low carb bread (as a side)
Fresh chervil leaves (optional)
DIRECTIONS
Preheat oven to 400°F. Place beets on large sheet of foil. Drizzle with 1 tablespoon olive oil; sprinkle with coarse salt. Wrap beets in foil. Roast beets until tender when pierced with fork, about 1 hour. Unwrap and cool beets. Peel, then cut each into 8 wedges.
Bring 3 cups water, 1/2 cup sugar, and pinch of coarse salt to simmer in large saucepan, stirring until sugar dissolves. Add rhubarb. Simmer over medium heat until just tender but still intact, 1 to 2 minutes (do not overcook or rhubarb will be mushy). Using slotted spoon, transfer rhubarb to platter and cool completely. DO AHEAD: Beets and rhubarb can be made 1 day ahead. Cover separately and chill.
Finely grate enough peel from 1 orange to measure 1/2 teaspoon; transfer to small bowl and reserve for dressing. Cut off peel and white pith from all oranges. Working over medium bowl to catch juice and using small sharp knife, cut between membranes to release orange segments into bowl; squeeze membranes to release juice into bowl. Transfer 2 tablespoons orange juice to bowl with orange peel. Whisk vinegar, lemon juice, shallot, honey, and remaining 3 tablespoons olive oil into bowl with orange peel and orange juice mixture. Season dressing with coarse salt and pepper.
Arrange watercress, beets, rhubarb, and orange segments on 6 plates. Sprinkle with feta and drizzle with dressing. Garnish with chervil leaves, if desired, and serve.
Add a slice of toasted, low carb bread on the side to enjoy between bites.
Prep Time:
30 minutes
Cook Time:
2 minutes
Ready In:
32 minutes
NUTRITION FACTS
Per serving: 300.2 kcal calories, 48.9 % calories from fat, 16.3 g fat, 6.0 g saturated fat, 27.8 mg cholesterol, 33.4 g carbohydrates, 4.2 g dietary fiber, 27.7 g total sugars, 29.2 g net carbohydrates, 7.2 g protein