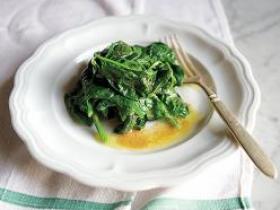 07 Jun

BUTTERED SPINACH WITH VINEGAR

Lose Belly Fat fast with this great tasting salad.   13 minutes to an unbelievable dish.
INGREDIENT ITEMS
4 bunches flat-leaf spinach, trimmed, rinsed, with some water clinging
6 tablespoons (3/4 stick) unsalted butter
2 teaspoons (or more) red wine vinegar
Kosher salt, freshly ground pepper
DIRECTIONS
Gradually add spinach to a large dry pot over medium heat, allowing it to wilt between additions; cook until tender, 5-8 minutes. Drain; press to remove liquid. Wipe out pot.
Melt butter in same pot over medium heat. Add spinach and 2 teaspoons vinegar. Season with salt, pepper, and more vinegar, if desired; toss to coat.
Prep Time:
5 Minutes
Cook Time:
8 Minutes
Ready In:
13 Minutes