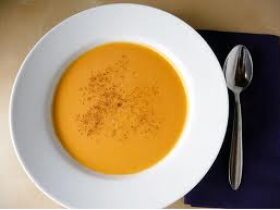 01 Mar

BUTTERNUT SQUASH BISQUE

Looking for something a little different from your ordinary recipe? Try this great tasting bisque. Aside from the fantastic taste, this is an awesome way to enjoy high protein eating while helping you meet your goals!
INGREDIENT ITEMS
1 tsp unsalted butter
1 small onion, chopped
1 ¾ cups butternut squash, peeled and diced
1 package of BW high protein chicken bouillon
½ tsp nutmeg
1/8 tsp white pepper
¾ cup half-and-half
DIRECTIONS
In a saucepan over medium heat, melt butter.
Add onion and cook until onion is translucent.
Add butternut squash to onion and cook, stirring for 2 minutes.
Add chicken broth, turn up the heat to high and bring to a boil.
Reduce heat to low and simmer covered until squash is tender (approx 20 minutes – dice smaller for lower cooking times).
Cool soup and Puree in blender or food processor until desired consistency.
Add squash puree back to saucepan, add spices and half-and-half and bring soup back up to warm (Do not let the soup boil at this stage).
Serve immediately.
Prep Time:
5 minutes
Cook Time:
23 minutes
Ready In:
30 minutes
NUTRITION FACTS
Calories: 117 Calories
Protein: 4 grams
Total Fat: 7 grams
Carbohydrates: 12 grams
Fiber: 2 grams
Net Carbohydrates: 10 grams