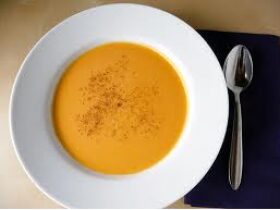 06 Jun

BUTTERNUT SQUASH BISQUE
INGREDIENT ITEMS
1 tsp unsalted butter
1 small onion, chopped
1 ¾ cups butternut squash, peeled and diced
1 14.5 oz can chicken broth
½ tsp nutmeg
1/8 tsp white pepper
¾ cup half-and-half
DIRECTIONS
In a saucepan over medium heat, melt butter.
Add onion and cook until onion is translucent.
Add butternut squash to onion and cook, stirring for 2 minutes.
Add chicken broth, turn up the heat to high and bring to a boil.
Reduce heat to low and simmer covered until squash is tender (approx 20 minutes – dice smaller for lower cooking times).
Cool soup and Puree in blender or food processor until desired consistency.
Add squash puree back to saucepan, add spices and half-and-half and bring soup back up to warm (Do not let the soup boil at this stage).
Serve immediately.
Prep Time:
5 minutes
Cook Time:
23 minutes
Ready In:
30 minutes
NUTRITION FACTS
Calories: 117 Calories
Protein: 4 grams
Total Fat: 7 grams
Carbohydrates: 12 grams
Fiber: 2 grams
Net Carboyhdrates: 10 grams