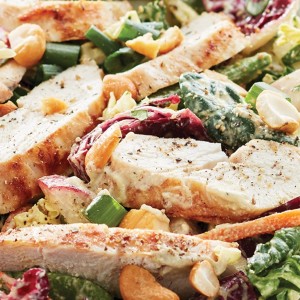 17 Jun

Cashew Chicken Salad

We dare you to try this unbelievably delicious high protein salad and not make it one of your favorite recipes! Colorful, nutrient-dense, and scrumptious, combined with a zingy, nutty, citrusy dressing…kiss your boring salad recipes goodbye.
Ingredients
Salad:
1 1/2 cups finely diced cooked chicken breast (6 ounces, about 1 1/2 breast halves or rotisserie chicken)
1 cup broccoli slaw
1 carrot, peeled and shredded
1 small celery rib, finely diced
10 canned peeled water chestnuts, rinsed and chopped
1/2 cup diced apple, such as Pink Lady or Fuji (about 1/2 apple)
Sauce:
1 tablespoon natural peanut butter
1 tablespoon rice wine vinegar
3/4 tablespoon soy sauce
2 tablespoons light mayonnaise
1/2-1 teaspoon sriracha sauce (spicy, so add to taste)
2 scallions, chopped (optional)
1/4 cup roasted unsalted cashews, chopped
Lime wedges
Directions
Combine the chicken, water chestnuts, carrot, celery, broccoli slaw and apple in a bowl and stir to mix.
Whisk together the peanut butter, vinegar, soy and sriracha sauce until smooth. Whisk in the mayonnaise and scallions, if using.
Spoon the dressing over the salad, and toss.
Sprinkle with cashews and a squeeze of lime juice before serving.
This cashew chicken salad serves 8 people.  Cashew chicken salad is a southern favorite enjoyed by all, learn how to make it the low carb way.