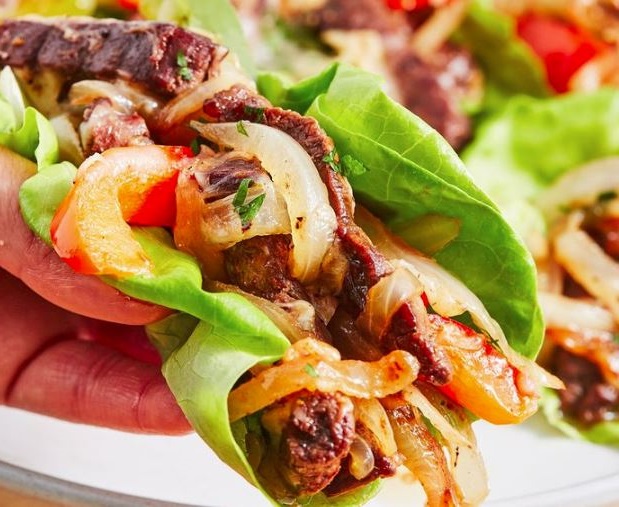 01 Feb

Cheese Steak pasta lettuce wrap

Directions
In a large skillet over medium heat Pam Spray. Add onion and bell peppers and season with salt, and pepper. Cook, stirring often, until vegetables are tender, about 5 minutes. Remove peppers and onions from skillet and add more Pam in skillet.
Add steak in a single layer and season with salt and pepper. Cook until the steak is seared on one side, about 2 minutes. Flip and cook until the steak is seared on the second side and cooked to your liking. In a different pan make your Blissful Wellness cheese steak pasta pack and follow the box to cook it.
Add everything back to skillet and toss to combine. Sprinkle provolone over steak and onions then cover skillet with a tight-fitting lid and cook until the cheese has melted, about 1 minute. Remove from heat.
Arrange lettuce on a serving platter. Scoop steak mixture onto each piece of lettuce. Garnish with parsley and serve warm.
Nutrition (per serving): 370 calories, 47 g protein, 15 g carbohydrates, 2 g fiber, 3 g sugar, 23 g fat, 9 g saturated fat, 250 mg sodium