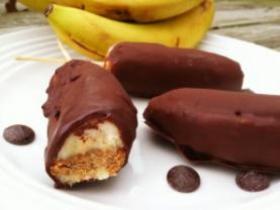 07 Jun

CINNAMON VANILLA ALMOND BANANA POPS
On a weight loss diet? Enjoy Blissful Wellness high protein desert.  You won't believe something this good is good for you.
INGREDIENT ITEMS
2 Bananas
1/3 cup Almond Butter
½ tsp Vanilla Extract
¼ tsp Cinnamon
1/3 cup Dark Chocolate (highest cocoa % you can find)
1 Tbsp Coconut Oil
Popsicle sticks or Bamboo Skewers
DIRECTIONS
Mix almond butter, vanilla, and cinnamon together until well blended
Peel and cut bananas in half. Then slice halves vertically
Divide mixture into 4 equal portions. 1 portion for 2 slices. Spread over one slice, press in skewer or sticks and then top with the other slice.
Freeze until firm
After they are frozen, melt your dark chocolate and coconut oil in a double boiler on low heat (or a glass bowl on top of a pot of water on low heat) Stir until melted and smooth
Dip each banana park in the dark chocolate and place on parchment paper. Freeze for about 210 minutes or until chocolate is hardened and cold!
NUTRITION FACTS
Calories: 290
Fat: 19.6g
Sat: 7.67g
Carbohydrates: 29g
Fiber: 6g
Sugar: 17g
Protein: 6g