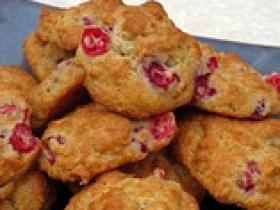 07 Jun

CRANBERRY WALNUT LOW CARB COOKIE

On a weight loss diet? Enjoy Blissful Wellness high protein cookies.  That's right!  Cookies as part of your diet.   Great way to lose weight and live the Blissful lifestyle.
INGREDIENT ITEMS
1 and 1/2 cups almond meal
1 cup whey protein powder
1/2 cup (one stick) butter
4 oz cream cheese (can use low fat)
2 eggs
1 ½ cups of Splenda® (GRANULATED SUGAR)
1 teaspoon cinnamon
1 teaspoon baking soda
1 teaspoon salt
1 teaspoon intense black molasses
½ cup chopped walnuts
1 cup whole cranberries
DIRECTIONS
Cream butter and cream cheese together until fluffy. Add sweetener, molasses, cinnamon, and salt, and beat again. Add eggs, and beat until combined.
Add almond meal, whey protein powder, and baking soda and combine well.
Mix in cranberries and walnuts.
Drop by rounded spoonfuls onto an ungreased cookie sheet. Avoid making very large cookies.
Preheat oven to 375 F.
Bake about 7 to 9 minutes, until top is just browning. Cool completely before eating . They are much better after they are cool.
Store in a sealed container and REFRIGERATE.
Cook Time:
7 to 9 minutes
NUTRITION FACTS
carbohydrate: 5 grams
fiber: 1 gram
protein: 4 grams
calories: 94