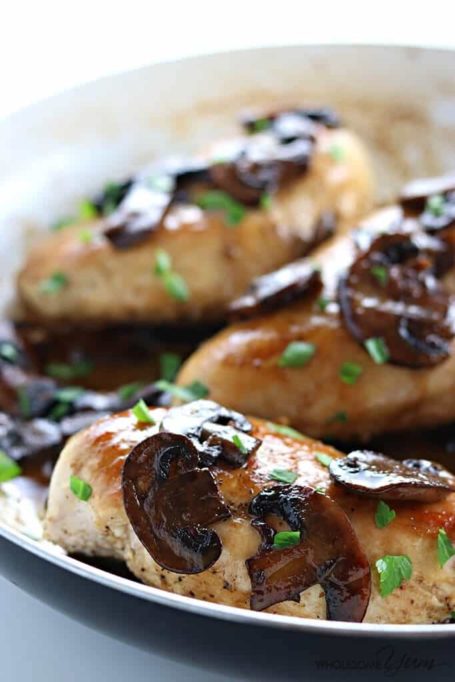 25 Apr

Crock Pot Chicken Marsala

Are you a fan of Indian cuisine, but want something low in carbohydrates? This delectable Chicken Marsala dish is just the thing. Even better, it may be cooked in your slow cooker. Simply throw everything in before leaving for work and leave on low while you're gone all day. You'll have a delicious low carb chicken marsala waiting for you when you get home from a long day at the workplace.

Ingredients
6 boneless, skinless chicken breasts, (about 6 pounds total)
2 cloves minced garlic
2 tablespoons extra virgin olive oil
1 teaspoon salt
1 teaspoon pepper
2 cups Marsala wine or chicken broth
1 cup cold water
1/2 cup arrowroot powder
16 ounces sliced baby portobello mushrooms
3 tablespoons fresh chopped parsley
Instructions
Slice chicken breasts in half lengthwise. Set aside.
Grease slow cooker and add garlic and oil.
Season chicken with salt and pepper on each side and lay in crock pot.
Pour wine over chicken and cover crock pot.
Cook on high 3 hours or low 7.
Mix water with arrowroot and stir until absorbed, no lumps.
Remove chicken from crock pot and keep warm.
Stir in arrowroot water mixture into the bottom of the crock pot and add mushrooms.
Add back the chicken and stir to coat chicken with sauce and mushrooms,
Cover and cook an additional hour.
Serve with a sprinkle of chopped fresh parsley.