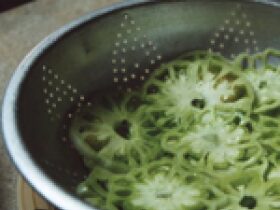 07 Jun

GRILLED CHICKEN AND GREEN TOMATO SALAD

If you want best weight loss, enjoy this wonderful high protein salad.  Complements any meal or stands alone as a great weight loss dish.
INGREDIENT ITEMS
1 pound boneless, skinless chicken breasts
1/4 cup lemon juice
1/2 teaspoon sea salt
1/4 teaspoon freshly ground black pepper
1/4 teaspoon thyme
1/4 teaspoon oregano
Canola oil cooking spray
1 pound green tomatoes, sliced into 1/2″ rounds
1 tablespoon whole-grain mustard
1 tablespoon white balsamic vinegar
2 tablespoon extra-virgin olive oil
8 cups baby arugula (10-ounce package)
DIRECTIONS
Heat grill on high; set grill rack 4 to 6 inches above heat source. Spray chicken with canola cooking spray and marinate in a ziploc bag with 1/4 cup Lemon Juice, Oregano, Thyme, Salt and Fresh Cracked Pepper for 30 minutes in refrigerator. Discard marinade.
Grill chicken, turning once, until it reaches an internal temperature of 165°F, 5 to 8 minutes each side. Transfer chicken to a cutting board, cover and let rest.
Make dressing: In a salad bowl, whisk dijon mustard, balsamic vinegar, 2 tablespoons olive oil and 1 tablespoon water. Reserve 1 tablespoon of dressing for Tomatoes. Coat green tomatoes with cooking spray; spread on grill grates; brush with reserved dressing.
Grill, turn once and brush again, until juicy but not mushy, 3 to 4 minutes per side. Take remaining dressing and toss with arugula.
Divide arugula among 4 plates. Slice chicken; distribute chicken and grilled green tomato slices evenly among plates.
Prep Time:
10 minutes
Cook Time:
26 minutes
Ready In:
35 minutes