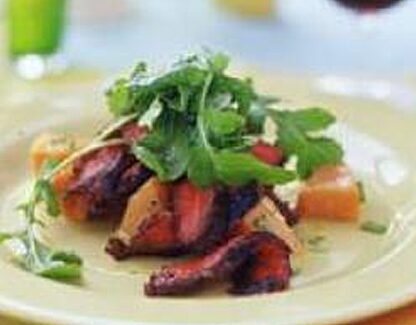 15 May

Grilled Thai Steak and Asparagus

Lose Belly Fat fast with this great tasting dinner.  Steak an asparagus is a decadent way to lose weight.
Ingredient Items
1/4 cup Thai fish sauce
2 tablespoons balsamic vinegar
1 teaspoon grainy mustard
1 teaspoon garlic, minced
1/2 teaspoon agave nectar
1/2 teaspoon hot red-pepper flakes
1 pound medium asparagus, trimmed
1 1/2 pounds flank steak
Directions
Whisk together first six ingredients in a small bowl. Reserve 2 T of sauce for asparagus.
Prepare a charcoal grill for direct-heat cooking over medium-hot charcoal (medium-high heat for gas). Add foil or a rack for grilling vegetables to one side of grill.
Brush steak and asparagus all over with separated glaze and sprinkle generously with sea salt and fresh cracked pepper.
Oil grill rack, then grill steak and asparagus, turning steak once and asparagus occasionally, until asparagus is tender and well browned in spots, 6 to 8 minutes, and steak is medium-rare, about 10 minutes.
Let steak stand on a cutting board 15 minutes; put asparagus on a platter and cover. Thinly slice steak across the grain.
(Alternately – asparagus can be roasted in the oven at 400 degrees for 10-15 minutes depending on thickness).