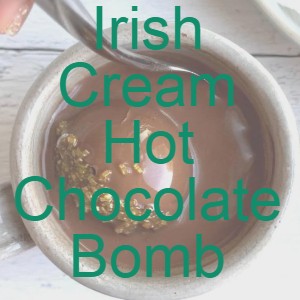 01 Dec

Irish Cream Hot Chocolate Bomb

This week we've got a treat for those with a sweet tooth and a love for rich, creamy hot chocolate. With the holidays just around the corner, it seemed fitting to share a healthy way to celebrate with something unique that you've probably never tried before. So we present to you: the Irish Cream Hot Chocolate Bomb! Silky, warm, and soothing, this is how hot chocolate should be done. Oh, did we mention you'll also benefit from 15g of lean protein with the Blissful Wellness hot chocolate mixes? This is healthy hot chocolate!

This is an easy recipe to multiply, depending on the number of people in your household who find it hard to pass on a nice cup of hot cocoa. You'll find that this is one of those ultimate treats that everybody loves and finds clever. (This is also a fun recipe to make with the kids or grandkids, by the way! Why not build some great memories while you're in the kitchen, right?)

Ingredients
Directions
Coat each mold with melted chocolate and allow to cool.
After cooled, fill half of the molds with BW hot chocolate powder.
Next take melted white chocolate and use like glue to make each 1/2 ball into a ball.
Finally drizzle with remaining white chocolate.
Now enjoy by placing ball in warm, high protein milk.