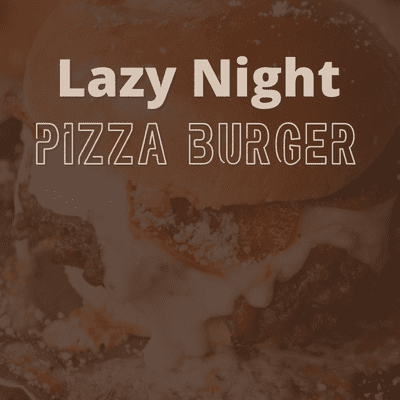 30 Jun

LAZY NIGHT PIZZA BURGER

When I was a kid, my uncle and aunt owned a small ice cream stand that they'd open during summer months. One of my favorite things to eat there was the pizza burgers. If you haven't had one yet, a pizza burger is basically a burger topped with pizza toppings. The most common pizza toppings are used are the tangy tomato sauce and mozzarella cheese. Other less common toppings may include onions, peppers, olives, and mushrooms.

Pizza burgers were a popular fast food item when I was growing up, and can still be found on the menus of pizza restaurants and burger joints. They can also be made at home with the recipe below.

Pizza burgers are a convenient way to get the flavors of both pizza and burgers in one meal. They are also a good option for those who may not like either pizza or burgers on their own. 

Ingredients

1 Envelope BW Sloppy Joe Mix

1 Cup Lean Ground Beef Cooked And Drained

1 Sliced Low Carb Bun

1 Cup Low Fat Shredded Mozzarella Cheese

Directions:

Prepare Sloppy Joe As Directed And Add to Beef

Scoop Beef Mixture Onto Each Bun Half

Top With Cheese

Broil For 3 Minutes

Enjoy !