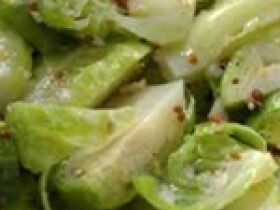 27 Apr

LEMONY, CREAMY BRUSSEL SPROUTS & CELERY

If you're looking for a unique vegetable to try, brussel sprouts are a great option! Brussel sprouts are a good source of vitamins and minerals, including vitamin C, potassium, and fiber. They also contain compounds that may help protect against cancer. You might be surprised at how much you like them now as an adult. For starters, give this high protein, tasty dish a go as part of your diet meal plan.  This yummy dish will be a great asset in helping you with weight loss goals.
INGREDIENT ITEMS
Salted water (to cover)
1 lb fresh Brussels sprouts (cleaned and ends trimmed and scored with an "X")
2 tablespoons unsalted butter
4 ribs celery, trimmed and cut on diagonal 1/4 inch thick
1/4 teaspoon celery seed
1 tablespoon flour
1 cup skim milk
Zest of one lemon
Juice of half a lemon
Pepper to taste
DIRECTIONS
Bring the salted water to a boil.
Drop sprouts into boiling water and cook until tender, about 15 minutes. (test for doneness with a fork).
In a separate medium saucepan, melt the butter on MEDIUM until shimmery, stir in the celery and celery seed and cook until celery is beginning to soften.
Sti in the flour and continue stirring to begin making your roux.
Add milk 1 Tablespoon at a time, stirring constantly.
Cook until smooth and thickened, about 5 minutes.
Stir in the zest, lemon juice, pepper to taste. Toss with Brussels sprouts and serve.
Prep Time:
10 minutes
Cook Time:
30 minutes
Ready In:
40 minutes
NUTRITION FACTS
Calories: 71
Total Fat: 3 grams
Protein: 3 grams
Saturated Fat: 2 grams
Carbohydrates: 9 grams
Net Carboyhdrates: 6 grams