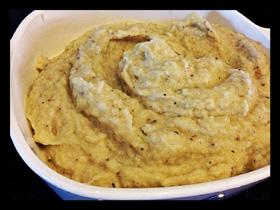 20 Aug

MASHED "FAUX-TATOES"

If you haven't tried faux mashed potatoes before, you are seriously missing out. These are delicious and easy to make. While they have a different texture and taste from regular mashed potatoes, they are every bit as tasty. Not only that, but they are better for you. Why not try to update your side dish game this week and give this recipe a shot. While you're at it, share this recipe with your friends on social media.
INGREDIENT ITEMS
1 large head Cauliflower
4 T butter
4 oz parmesan cheese
1/3 C mayonnaise (preferably canola or olive oil based)
1 tsp chicken bullion
1 tsp horseradish
1 tsp rosemary
High protein cheddar cheese to taste
1/2 tsp garlic powder
Salt & pepper to taste
DIRECTIONS
Microwave cauliflower and butter in a microwave-safe dish for 6 – 9 minutes until very soft.
Do not drain.
Grate parmesan cheese over cauliflower.
Add chicken bullion, horseradish and herbs.
Season with salt and pepper.
Mash with a mixer or stick blender.
Stir in mayonnaise and high protein cheddar cheese and serve.