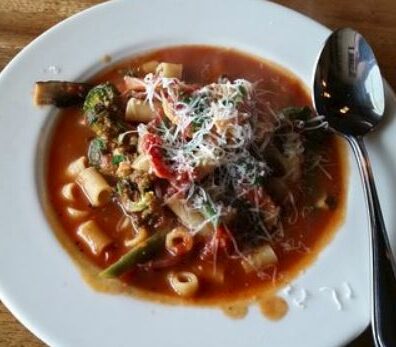 21 Aug

Minestrone Soup 

Ingredients:
1 packet Blissful Wellness Beef with Pasta Soup Mix
8 oz. water mix
¼ tsp. fresh basil, chopped
⅛ tsp. garlic, finely chopped
1 Tbsp. carrots, finely diced, optional
1 Tbsp. celery, finely diced
1 tsp. onion, finely chopped
1 Tbsp. zucchini, finely diced 2 oz. lean beef, finely diced
1 Tbsp. tomatoes, finely diced
Salt and pepper to taste
Directions:
Combine water and the soup mix; bring to a boil in a saucepan.
Add basil and garlic; simmer for 5 minutes.
Add carrots, celery, onion, zucchini and meat. Simmer until vegetables are almost tender, stirring constantly.
Add tomatoes; simmer until cooked.
Season soup with salt and pepper.
Serve warm.
Nutritional Facts
Calories 210 – Protein 32g – Carbohydrate 10g – Fat 4g – Fiber 2g