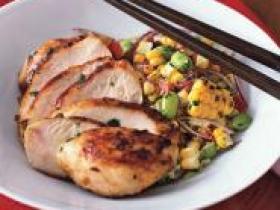 07 Jun

MISO CHICKEN

If you want best weight loss, enjoy this wonderful high protein chicken dinner.   Great taste for getting to your goals.
INGREDIENT ITEMS
Chicken
4 boneless, skinless chicken breasts (about 4 oz each)
1 teaspoon canola oil
Marinade
2 tablespoons miso paste (preferably Kochujang)
1 1/2 teaspoons light sesame oil
1 1/2 teaspoons chopped ginger
1 1/2 teaspoons chopped garlic
1/4 teaspoon red pepper flakes
DIRECTIONS
Place chicken in a shallow dish.
Combine marinade ingredients with 1 tablespoon water; pour over meat.
Chill, covered, 1 to 2 hours.
Remove chicken from marinade; drain excess.
Heat canola oil in a large skillet over medium-high heat.
Cook chicken until no longer pink in the center, about 4 minutes per side.
Prep Time:
2 H
Cook Time:
10 M
Ready In:
2H, 10M
NUTRITION FACTS
Nutritional analysis per serving:
155 calories
3.7 g fat (0.6 saturated)
1.9 g carbs
0.3 g fiber
27 g protein