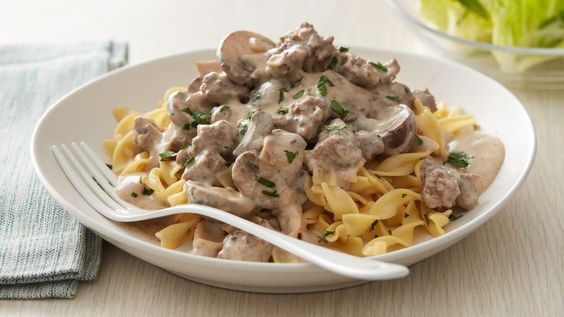 11 Dec

Mushroom and Noodle Stroganoff

Ingredients:
4 oz. sirloin beef tips
¼ tsp. garlic powder
¾ cup mushrooms sliced
2 Tbsp. green onions diced
1 packet Cream of Mushroom soup mix 
6 oz. boiling water
½ tsp. parsley
1 cup Proti High Protein Fusilli cooked
¼ tsp. salt 
Directions:
Brown the sirloin beef tips over medium heat in a skillet coated with nonstick cooking spray. Sprinkle the meat with the garlic powder. Add the mushrooms and the green onions. Continue cooking until the mushrooms are tender. Add the soup mix, salt, water and parsley. Simmer on medium-low heat until most of the liquid is absorbed. Serve over rice and spoon extra sauce over the rice and beef. 
Nutritional Facts
Calories 256 — Protein 35g — Carbohydrate 24g — Fat 4g — Fiber 3g