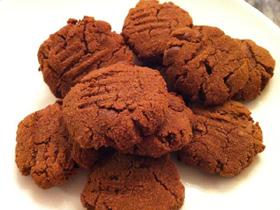 30 Jun

PALEO DOUBLE CHOCOLATE CHUNK COOKIES

These paleo chocolate chip cookies are perfectly soft with just the right amount of crispiness. They look and taste like they were bought at a high-end bakery. What's more is that they are low carb and low cal, with all the taste you'd expect from a less healthy option. Trust us, you need these cookies in your life right now. They're a great chocolate fix for all the chocoholics out there! These are a perfect treat to bring to the next backyard party as well.
INGREDIENTS
1 cup almond butter
1 egg
1/4 cup cocoa powder
1/4 cup sugar free chocolate chips (or find a sugar free bar of 80% dark chocolate and chop coarsely)
1 tablespoon vanilla extract
1/2 tsp baking soda
2 tablespoons – 1/4 cups stevia (optional)
DIRECTIONS
In a mixing bowl, combine all ingredients and mix until thoroughly combined.
On a parchment lined (or silicone lined) baking sheet, portion out the cookie dough batter by the tablespoon.
Use your clean hand to flatten the ball into the desired cookie thickness.
Place in a preheated over at 350 degrees for 10-14 minutes, depending on your oven.
Remove from oven and either leave them on the baking sheet for a a few minutes (for a crispier texture) or transfer to a wire rack to cool for a softer texture.
NUTRITION FACTS
Calories: 58
Fat: 5g
Sat Fat: 1g
Cholesterol: 7mg
Sodium: 5.74mg
Carb: 2.5g
Fiber: 1.15g
Protein: 3g