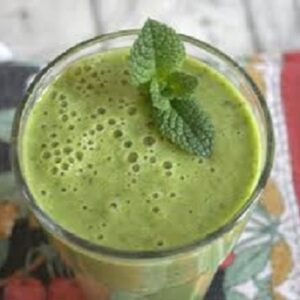 08 May

Peppermint Patty Green Smoothie

Ingredients

1 packet Blissful Wellness Apple Fruit Drink Concentrate

¾ cup Almond milk (or soy)

½ cup Oikos Triple Zero Vanilla Greek yogurt (or plain)

1 handful of fresh mint leaves, stems removed

1 handful spinach

1/8 teaspoon peppermint extract (optional)

2 tablespoons chopped dark chocolate

Directions
Place all of the ingredients except the chocolate into a blender.
Blend until smooth. Adjust to taste.
Serve with a garnish of chopped dark chocolate and mint leaves. Enjoy with a spoon or straw.
Nutritional Facts Calories:
149 — Protein 23g — Carbohydrate 8g — Fat 2g — Fiber 3g