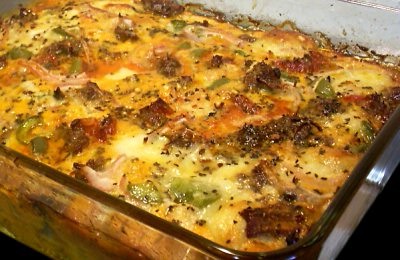 26 Aug

PIZZA TOPPINGS CASSEROLE

Looking for a tasty main dish that is also low carb? This casserole is delicious, nutritious, and best of all, low-carb friendly. Use all natural ingredients for a taste explosion that your body will love. Of course, you'll want to consider enjoying a high-protein, low-carb dessert after your meal, so consider one of these puddings or jellos to round out the meal.

Ingredients for casserole
1 pound bulk Italian sausage
8 ounces fresh mushrooms, sliced
4 eggs
1/2 cup heavy cream
1/4 cup pizza sauce (recipe below)
1/4 teaspoon garlic powder
1/2 teaspoon Italian seasoning and/or basil
3 1/2 ounces pepperoni, chopped
1/2 cup green pepper, chopped (2 ounces)
8 ounces whole milk mozzarella cheese shredded
1/2 cup red onion, slivered (1 ounce)
Crushed red pepper, optional
Brown the sausage with the mushrooms; drain the grease. Meanwhile, whisk the eggs, cream, pizza sauce and seasonings in a medium bowl. Grease a 7×9″ deep baking dish (or 7×12″ shallow baking dish) and put in the meats, mushrooms, peppers and the mozzarella. Pour in the egg mixture and mix well. Top with the red onion. Sprinkle with a little more garlic powder, Italian seasoning and a little crushed red pepper flakes, if you like. Bake at 350º for 45-55 minutes until nicely browned and a knife inserted in the center comes out almost clean. Mine still had a bit of liquid in the center but it was done. Let stand about 5 minutes before serving.
Makes 6-8 servings
Per 1/6 Recipe: 582 Calories; 50g Fat; 27g Protein; 5g Carbohydrate; 1g Dietary Fiber; 4g Net Carbs
Per 1/8 Recipe: 437 Calories; 38g Fat; 20g Protein; 4g Carbohydrate; 1g Dietary Fiber; 3g Net Carbs
Pizza Sauce ingredients (for dipping or topping)
8 ounce can tomato sauce
2 tablespoons tomato paste
1/2 cup water
2 teaspoons granular Splenda or equivalent liquid Splenda
1/4 teaspoon garlic powder
1/2 teaspoon dried basil, or to taste
Bring all of the ingredients to a boil in a small saucepan. Partially cover the pot and simmer over low heat for 1 hour. Makes about 1 cup. Either pour sauce over casserole or place in bowl for dipping.
Per 1/4 cup: 22 Calories; trace Fat; 1g Protein; 5g Carbohydrate; 1g Dietary Fiber; 4g Net Carbs
Per Batch: 86 Calories; trace Fat; 3g Protein; 19g Carbohydrate; 3g Dietary Fiber; 16g Net Carbs