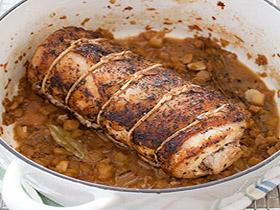 07 Jun

PORK POT LUCK

Lose Belly Fat fast with this great tasting main dish.  You won't believe how great this dish tastes!
INGREDIENT ITEMS
12oz Pork Tenderloin
¼ tsp Olive Oil
½ cup Chopped Onion
½ cup Red Bell Peppers Chopped
1 cup of Shredded Cabbage
1 Medium Tomato
½ cup Blissful Wellness Chicken Bullion
1 tsp Paprika
1 tsp Salt
1 tsp Black Pepper
1 Clove garlic
DIRECTIONS
In a nonstick skillet, brown pork 2 to 3 minutes per side over medium-high heat.
Remove pork.
Add oil, onion, garlic, and red pepper, sautéing for 3 to 5 minutes or until onion softens.
Reduce heat to medium.
Stir in cabbage, tomato, broth, and spices.
Add chops to skillet. Cook 10 minutes more, stirring occasionally.
NUTRITION FACTS
Calories: 256
Fat: 7g
Sat Fat: 2g
Cholestoral: 110mg
Sodium: 347mg
Carbs : 11g
Fiber: 3g
Protein: 37g