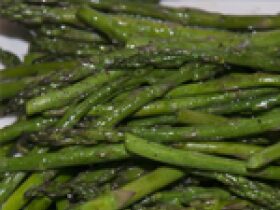 07 Jun

ROASTED ASPARAGUS WITH BALSAMIC GLAZE

Lose Belly Fat fast with this great tasting side dish.  Easily made and a great part of your weight loss plan.
INGREDIENT ITEMS
1 pound fat spears of asparagus, snap off bottoms
1 tablespoon olive oil
1 tablespoon balsamic vinegar
Salt & pepper to taste
DIRECTIONS
Preheat oven to 450F.
Measure olive oil and vinegar onto a rimmed baking sheet.
Use a vegetable peeler to trim away some skin, in stripes, from the stem ends of the spears.
Using your hands, roll the spears in the oil and vinegar until coated all over.
Season with salt and pepper.
Roast for 7 – 10 minutes (it goes fast) until the desired tenderness.
Prep Time:
10 minutes
Cook Time:
10 minutes
Ready In:
20 minutes
NUTRITION FACTS
Calories: 53
Total Fat: 4 grams
Saturated Fat: 1 gram
Carbohydrates: 5 grams
Fiber: 2 grams
Protein: 2 grams