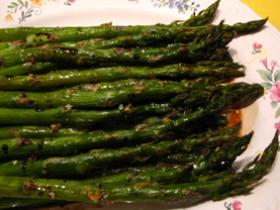 07 Jun

ROASTED ASPARAGUS WITH BALSAMIC VINAIGRETTE

Lose Belly Fat fast with this great tasting asparagus dish!  You won't believe how great this tastes and helps you lose weight.
INGREDIENT ITEMS
1 pound fat spears of asparagus, woody ends snapped off
1 tablespoon olive oil
1 tablespoon Walden Farms® Balsamic Vinegar
Salt & pepper to taste
DIRECTIONS
Preheat oven to 450F
Measure olive oil and vinegar and add pour onto a rimmed baking sheet
Trim away some skin from the stem ends of the spears with a vegetable peeler.
Roll the spears in the oil and vinegar until coated all over.
Season with salt and pepper.
Roast for 7 – 10 minutes (watch closely as it goes fast) until the desired tenderness.
Prep Time:
30 minutes
Cook Time:
7 – 10 minutes
NUTRITION FACTS
Calories: 45
Protein: 2 grams
Total Fat: 4 grams
Sat Fat: 1 grams
Carbs: 4 grams
Fiber: 2 grams
Net Carb.: 2 grams
Sodium: 2 miligrams
Cholesterol: 0