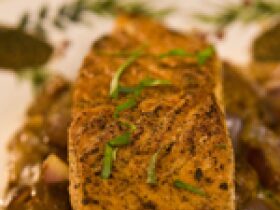 22 Jul

SALMON WITH CARAMELIZED ONIONS

On a weight loss diet? This high protein salmon recipe with caramelized onions is sophisticated, yet easy to make.  Talk about a terrific meal for adult taste buds. Our salmon recipe has a slight cajun feel, which is offset by the semi-sweet sauce. Not only will this recipe help you achieve your goals, you'll find it to be an outstanding new flavor sensation to add to your regular recipe rotation.
INGREDIENT ITEMS
3 tablespoons olive oil, divided
1 teaspoon cumin
1/2 teaspoon chili powder (not hot)
1 teaspoon brown sugar (may substitute Splenda for brown sugar)
4 (6-ounce) salmon fillets (1 inch thick) with skin
2 medium red onions (about 1 pound total), each cut into 8 wedges
2/3 cup balsamic vinegar
1 teaspoon sugar
1 tablespoon unsalted butter
DIRECTIONS
Heat 1 tablespoon oil in a 12-inch nonstick skillet over medium heat until hot.
Pat salmon dry and sprinkle with a rub made of 1 teaspoon cumin, 1 teaspoon chili powder, 1 teaspoon brown sugar (or Splenda brown sugar), 1 teaspoon salt and 1/2 teaspoon pepper, then cook, skin side up, until undersides form a golden crust, 12 to 15 minutes.
Turn fish over and cook until just cooked through, about 3 minutes more.
Meanwhile, heat remaining 2 tablespoons oil in a large skillet over medium-high heat until it shimmers, then sauté onions until golden brown and crisp-tender, 6 to 8 minutes.
Stir in balsamic vinegar, sugar, and 1/2 teaspoon salt and cook until sauce is syrupy, about 2 minutes.
Remove from heat and stir in butter. Place salmon on plate and top with caramelized onions.