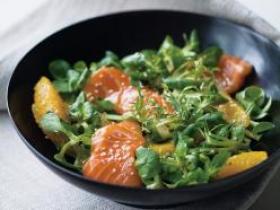 07 Jun

SASHIMI SALAD WITH SOY AND ORANGE

On a weight loss diet? Enjoy Blissful Wellness high protein salad.  A great and exotic taste for your blissful wellness lifestyle.
INGREDIENT ITEMS
4 oranges
1 or 2 limes
1 tablespoon soy sauce
3 tablespoons grapeseed oil
6 cups mâche (lamb's lettuce) leaves
2 cups frisée lettuce, torn into bite-size pieces
1/2 cucumber, peeled, seeded, and thinly sliced (optional)
7 ounces sushi-grade salmon, skin removed
1 teaspoon sesame seeds, toasted
DIRECTIONS
Grate the zest of 1 orange and the lime into a large bowl. Squeeze 1 tablespoon of juice from the grated orange and 2 tablespoons of juice from the grated lime into the bowl (you may need a second lime to get the 2 tablespoons of juice). Whisk in the soy sauce and the oil. Set the dressing aside.
Use a sharp knife to slice the rind and pith from the remaining oranges. Working over a mixing bowl, cut between the membranes to free the orange segments, letting them drop into the bowl. Pour any juice into a cup and reserve it for another use. Add the mâche, frisée, and cucumbers, if using, to the orange segments. Using a large sharp knife, cut the salmon into 1/3-inch-thick slices. Add the salmon to the bowl. Drizzle with the dressing, and toss gently to coat. Allow the flavors to meld for at least 2 minutes.
Divide the salad among 4 serving plates. Sprinkle with the toasted sesame seeds, and serve.
Prep Time:
20 minutes
Cook Time:
0 minutes
Ready In:
20 minutes
NUTRITION FACTS
Calories 311
Carbohydrates 28 g (9%)
Fat18 g (27%)
Protein14 g (28%)
Saturated Fat3 g (13%)
Sodium 262 mg (11%)
Polyunsaturated Fat 9 g
Fiber 7 g (26%)
Monounsaturated Fat 4 g
Cholesterol 27 mg (9%)