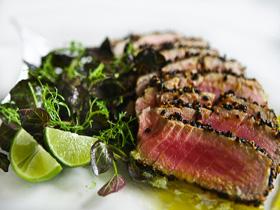 01 Mar

SEARED SESAME LIME TUNA

If you want more than just weight loss, but an enjoyable diet as well, enjoy this wonderful high protein sesame lime tuna recipe for your next lunch or dinner.   Easy to make and great tasting too. Try washing it down with a nice pink lemonade protein shot to really pump up your diet with lean protein.
INGREDIENT ITEMS
1 1/2 pounds tuna steaks, cut into sixteen 1- to 1 1/4-inch cubes
1 tablespoon olive oil
1 tablespoon soy sauce
2 teaspoons minced garlic
1 3/4 teaspoons grated lime peel
2 teaspoons black and white sesame seeds
Cooking spray
8 8- to 10-inch wooden skewers, soaked in water 30 minutes
DIRECTIONS
Prepare barbecue (medium-high heat) or preheat grill pan to medium-high.
Toss first 5 ingredients in bowl.
Season with salt and pepper. Roll cubes in sesame seeds.
Grill or broil kebabs until tuna is just opaque in center, turning kebabs often, about 6 minutes total.