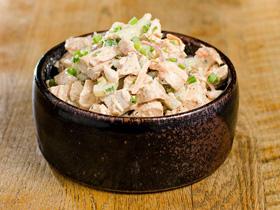 03 Nov

SKINNY CHICKEN SALAD

This is a marvelous recipe that's sure to make it's way into your favorite 'quick and easy dish' category. It's a great way to use leftover chicken and you'll find it's great when paired with these crunchy ranch protein chips, or on a salad.
INGREDIENTS
2/3 cup Cubed Chicken Breast
1 Green Onion
¼ cup Chopped and Peeled Cucumber
1 tbsp Reduced Fat Sour Cream
2 tsp Grain Dijon Mustard
1 tsp Lemon Juice
1/8 tsp lemon peel
Pinch of Salt
Pinch of Pepper
DIRECTIONS
Mix everything together in a big bowl, stirring well to blend in the lemon juice and sour cream.
Serve on a large bed of greens!
NUTRITION FACTS
Calories: 164
Fat: 4g
Sat Fat: 1g
Cholesterol: 88mg
Sodium: 1160mg
Carb: 7g
Fiber: 1g
Protein: 23g