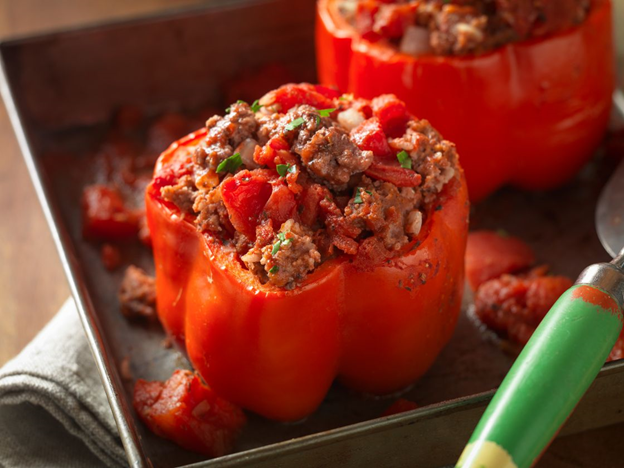 19 Dec

Sloppy Joe Stuffed Peppers

Ingredients
1 pack of Blissful Wellness sloppy joe mix
4 large bell peppers (any color)
2 tablespoons pam spray
1 small onion, chopped (about 1/2 cup)
3 cloves garlic, minced
1 1/2 pounds ground beef
2 teaspoons chili powder
3/4 teaspoon sea salt
2 tablespoons chopped fresh flat-leaf parsley
Directions:
1.   Preheat the oven to 375°F. Line a rimmed baking sheet with parchment paper or a silicone baking mat.
2.   Cut the peppers in half vertically and remove the ribs and seeds. Place the peppers on the prepared baking sheet and bake for 20 to 25 minutes, until they are tender.
3.   While the peppers are in the oven, make the sloppy Joe mixture: Heat the pam in a large skillet over medium heat. When the pan is hot, add the onion and garlic. Cook until the onion are soft and the garlic is fragrant.
4.   Add the ground beef, breaking it up with a heatproof spatula, and cook until browned, about 8 minutes.
5.   Mix in the Blissfull Wellness Sloppy joe mix following the directions on the box and add salt. Simmer for 5 to 7 minutes, until the sauce has thickened.
6.   Stuff the sloppy Joe mixture into the pepper halves and garnish with the parsley.
Nutrition:
Calories: 274   Fat: 15 g     Carbohydrates: 15 g        Fiber: 4.2          Protein: 34g