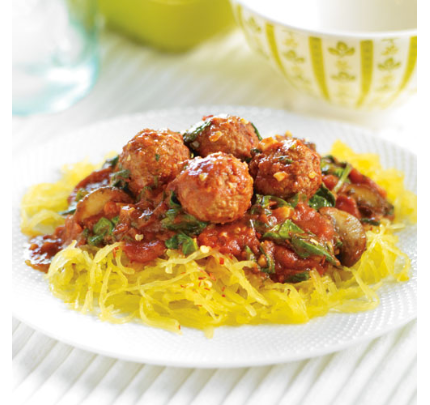 28 Apr

Spaghetti Squash and Meatballs

Do you enjoy the concept of eating low carb, but struggle to find recipes that are creative and interesting? Hold on to your seat, because we're about to share a dish that will persuade you. This spaghetti squash and meatballs dish has all of the flavor without any of the guilt. Even more so, you may prepare it in a slow cooker for lunch during the day, and when dinner time arrives, you'll be enjoying every last bite. It's incredibly simple to make…try it out and let us know what you think!

Ingredients
1 medium spaghetti squash
1 1/2 cups crushed tomatoes
1/2 tsp salt
1/2 tsp garlic powder
1/4 tsp pepper
1/4 tsp dried oregano
16 (at least) meatballs (beef, turkey, or chicken)
Additional salt and pepper to taste
Cut spaghetti squash in half, crosswise. Place in the bottom of a 6 quart slow cooker, cut-side down.
In a processor or blender, combine tomatoes, salt, garlic powder, pepper and oregano. Puree until smooth. Pour into bottom of slow cooker.
Place meatballs over tomatoes, around spaghetti squash. Cook on low for 6 to 7 hours or on high for 3 to 4 hours.
Using tongs, remove spaghetti squash from slow cooker. Scoop out seeds and discard. Scoop out flesh into a sieve or colander and let drain a few minutes to reduce moisture. Shred squash with a fork to make spaghetti "noodles".
Divide between 4 plates and top with sauce and meatballs.