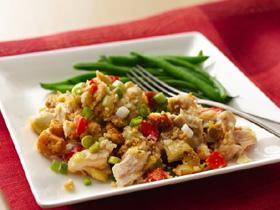 07 Jun

TURKEY ARTICHOKE CASSEROLE

Have this high protein tasty meal as part of your diet meal plan.  This meal will fill you up and help you achieve your goals.
INGREDIENT ITEMS
2 T unsalted butter
1 T Olive Oil
2 cups leftover turkey (preferable white meat!)
1 cup mushrooms, sliced
1 small onion, diced
½ 14.5 oz can quartered Artichoke hearts in water (drained)
2 – 3 garlic cloves, minced
1 14.5 oz can chicken broth
2 T whole wheat flour
¼ C Shredded parmesan cheese
DIRECTIONS
Preheat oven to 350F.
Spray a 2 qt casserole (or 13×9 pan) with cooking spray.
In a skillet over medium heat, add 1T of olive oil.
Saute the mushrooms and onions until browned and exuding their juices.
Add the leftover turkey and artichoke hearts to the skillet.
Stir to combine and toss into 2 qt casserole
In the skillet, add the 2 T of butter and melt.
Add the flour, whisking to blend and remove lumps (1 minute).
Slowly add broth, whisking continuously and cook until thickened and bubbling.
Pour sauce over turkey mixture and stir.
Top with parmesan cheese.
Bake uncovered 30 – 45 minutes
Serve over Al Dente low-carb pasta found at all Blissful Wellness locations!
Prep Time:
25 minutes
Cook Time:
30-45 minutes
Ready In:
65 minutes
NUTRITION FACTS
Calories: 310 Cal
Protein: 38 g
Total Fat: 15g
Carbohydrates: 5 g
Fiber: 1 g
Net Carboyhdrates: 4 g