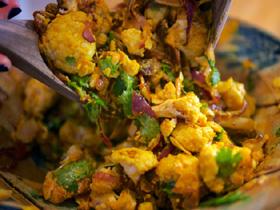 07 May

TURMERIC CAULIFLOWER WITH LEMON PEPPER DRESSING

On a weight loss diet but tired of bland, boring dishes? Enjoy this delicious, low carb dish. The exotic flavors will tempt your taste buds, and because it contains only 146 calories and 7gm of carbs, you can enjoy a second serving without worrying about your waistline.
INGREDIENT ITEMS
1 medium head of cauliflower (around 1 lb / 450 gr cauliflower florets)
1 teaspoon turmeric
Vegetable Broth (use as needed)
3 tablespoons olive oil
juice of one lemon
1 clove garlic, smashed
½ teaspoon whole pepper seeds
¼ teaspoon ground pepper
½ teaspoon fine grain sea salt
1 teaspoon fresh herbs, chopped (I used rosemary, thyme and oregano)
DIRECTIONS
Cut the head of cauliflower into florets.
In a large saucepan heat the Blissful Wellness Tomato Soup, when it starts to boil add the cauliflower florets and turmeric (the florets should be completely covered with the Soup and broth).
Lower the heat and cook until al dente, 5 minutes.
In the meantime, in a medium bowl combine olive oil, lemon juice, pepper seeds, ground pepper, sea salt and herbs. Mix until well blended.
Drain the cauliflower florets, transfer to the bowl and toss while it's still hot.
You can serve hot or cold, as you prefer.
NUTRITION FACTS
Calories: 146
Fat: 11g
Sat Fat: 1.5g
Cholesterol : 0
Sodium: 329mg
Carbs: 7g
Fiber: 3g
Sugar: 3g
Protein: 6g