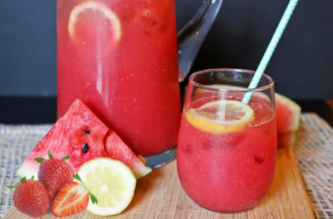 07 Jun

WATERMELON AND STRAWBERRY LEMONADE

Have this high protein tasty drink as part of your diet meal plan.  Love lemonade?   You won't believe how great this beverage is!
INGREDIENT ITEMS
1 Packet of Lemonade Mix
8 Ounces of Cold Water
1/2 Cup Watermelon
1 Ounce Fresh Strawberries
1/4 Tsp. of Watermelon Extract
1/2 Cup of Ice
DIRECTIONS
Combine all ingredients in a blender and blend until smooth.
Prep Time:
10 minutes
Cook Time:
0
Ready In:
10 Minutes
NUTRITION FACTS
Calories: 114
Protein: 15 grams
Carbs: 12 grams
Fat: 0 grams
Fiber : 3 grams