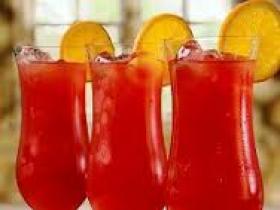 07 Jun

WILD AND CRAZY HURRICANE SLUSHY

Summer months are always interesting…sometimes due to unpredictable weather! We say there's no better time to celebrate life than the present with this heavenly high protein cocktail.  This delightful slushy will satisfy all your cravings regardless of what Mother Nature throws our way!
 INGREDIENT ITEMS
3 Ounces of Baja Bobs Sugar Free Hurricane Mix
3 Ounces of Dark Rum
1/2 Cup of Crushed Ice
DIRECTIONS
Combine all ingredients in a blender and blend until smooth. Serve.
Prep Time: 10 Minutes
Ready In: 10 Minutes
NUTRITION FACTS
Calories: 194
Carbs: 0 grams